Rising from the past like an avenging angel, The Tarpeian Rock is back after a brief hiatus. You may remember The Tarpeian Rock as the bane of post-modernists, profligates, and purveyors of literary and artistic stultiloquy everywhere. For too long, mediocrity, absurdity, and obscenity have dominated the worlds of art and literature. Inspired by a satanic vocation, the enlightened experts have spent the last hundred years or so declaring the beautiful trite, and the ugly transcendent. And what do we have to show for this century of confusion? Piles of rusting metal that some consider sculpture. Meaningless novels which celebrate moral and cultural relativism. Poetry that is nothing but flaccid prose with bad line breaks. The expurgation of God from public discourse except as an object of criticism. The finest galleries house art that could easily be replicated by a troubled five year-old. Everywhere there is an infantile obsession with pornographic titillation.

In this milieu, The Tarpeian Rock provides a welcome counter-punch. This is a magazine that discerning readers enjoy and yet feel comfortable leaving on the coffee table where their kids might see it. Called "the work of a coterie of committed and practiced writers" by Literary Magazine Review, The Tarpeian Rock includes works both sober and humorous. Clever short stories are featured alongside insightful opinion pieces with the main theme being an appreciation for God, country, and traditional values. Pieces that extol a particular virtue, like faith, courage, loyalty, honesty, love, hope, or compassion are particularly welcomed. Also satirical pieces that really take the gloves off in attacking relativism, nihilism, pseudoscience, political correctness, or cultural vulgarity are given pride of place.

Back issues available online:



---
Visit
the

---
Submit your work to The Tarpeian Rock

Think your work is good enough to make the cut? The Tarpeian Rock is actively seeking high-quality, previously unpublished submissions for our next issue. The submission deadline is December 1. We are specifically looking for the following: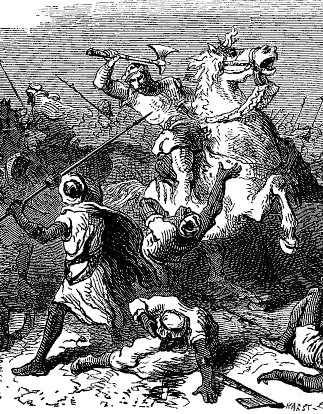 Short Stories of 5,000 words or less. These can be in a variety of genres including: historical fiction, action/adventure, science fiction, fantasy, alternate history, and other forms of speculative fiction. Stories with an element of humor or satire are particularly appreciated.


Young Writer's Story Contest. If you are between the ages of 12 and 18, please consider submitting your work for our 2018 Young Writer's Contest (details coming soon).

Essays or opinion pieces of about 1,500 words or less. Ideally, these should be on current cultural issues of import and the writing should be nothing short of sparkling.


Reviews of Books or Movies of 750 words or less will be considered if the work in question is recent and relevant, and if the review itself is cogent and insightful.
Lyric Poetry of 30 lines or less will be considered, but must be positively brilliant to be published. Such poetry should have an identifiable meter and ideally, a rhyme scheme as well. Longer works of up to 200 lines will be considered, but held to an even higher standard.
Cartoons which are genuinely funny and expertly drawn will be considered. All cartoon submissions should be pen and ink and, if selected, will be published in black and white.
Artwork will be considered either in full color (for the cover) or in black and white (inside)
Please note that at this time, The Tarpeian Rock does not pay commission on work submitted and published. However, writers and artists will retain all rights to their work. Thus, the magazine is an excellent vehicle to showcase your name and talent before the reading public. No simultaneous submissions, please!

The editors reserve the right to reject submissions for any reason. The most common reasons for rejection include: Unacceptable writing quality; obscene or vulgar content; anti-Christian themes.

Send submissions and queries to: tschiavo (at) arxpub.com



Format

From 2003 through 2007,

The Tarpeian Rock

was produced at letter-size (8.5x11). Due to postal rate increases and other convenience factors, the magazine has changed to digest-size (5.5x8.5) for 2008 and following.

Advertising

As of the 2008 issue,

The Tarpeian Rock

no longer accepts advertisements. Thanks to our previous sponsors for helping us get things off the groun

---

The 2019 issue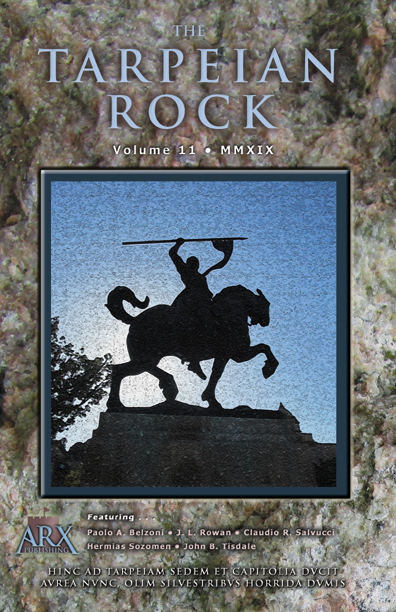 Order a copy of the 2019 issue for $5.00 (+$3.00 shipping)

---
Articles from
the 2019 issue...

The Kisses That Killed Prejudice

La Pucelle

"It's Either Surrender or Fight!"


---
Articles from
the 2017 issue...

Agnella and Her Nurse

Gateway to the Call

---
Articles from
the 2016 issue...

The Resplendent Dawn of a Serene Future

Father Sun and Daughter Moon

The Secret of the Climbing Tree

---
Articles from
the 2015 issue...

Bearer of a Thousand Wounds


A Cretaceous Carol
The Knight and the Flaming Arrow
---

Articles from
the 2009 issue...

We Must Follow


They Know Not What They Do
---
Articles from
the 2008 issue...

The Pledge


Doors

---
Article from
the 2007 issue...

The Curse of Borello

---
Articles from
the 2006 issue...

Filleting Nemo

If Bigfoot Could Vote

---
Article from
the 2005 issue...

People Don't Write That Way Anymore
---
Articles from
the 2004 issue...

Over the Target


Elfland's Ethics

---
Articles from
the 2003 issue...

Postmodern Postmortem


The First Attack that United the World