he founder of Evolution Publishing and Manufacturing, Claudio was born in Philadelphia in 1971. His first published work, written while in his early 20's, was an epic poem entitled the Laviniad , based on classical legends of the founding of Rome. He next turned his attention to Philadelphia and Pennsylvania dialectology, authoring three books which have been featured on Pennsylvania Cable Network's About Books . Current projects include serving as series editor for the American Language Reprint series (a collection of early American Indian vocabularies), and writing a local opinion column for the Bucks County Courier Times.


laudio holds an undergraduate degree in Biology from Haverford College, and his non-professional interests include hiking, music, politics, zoology, horticulture, and the Latin Mass (Tridentine Rite). He is also a composer and songwriter. A traditionalist at heart, his work touches on themes such as history, nature, science, and Catholic theology.


native of North Philadelphia, Claudio now resides in the nearby suburb of Feasterville, Bucks County.

Featured works
Literature
Poems from the collection On Neshaminy's Banks
Excerpt from the romance Warlock
Remarks prepared for the 1993 meeting of the Philadelphia Classical Society
Opinion pieces for the Bucks County Courier Times (outside links)
Digital Art
The Holy Spirit Descending on Literature
Music
Overture from The Latins
Concertino for Harpsichord, Flute and Orchestra
Excerpts from The Cyraleian Suite
The Youghiogheny from The Rivers of Pennsylvania
Arabesque
Guitar #6: "Russian"
Rich Man's Rag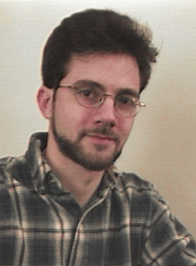 Favorite Books :
The Gospel of St. Luke
The Gospel of St. John
Homer, Iliad and Odyssey
Vergil, Aeneid
Suetonius, The Twelve Caesars
St. Augustine, Confessions
Beowulf
Dante Alighieri, the Divine Comedy
Alexis D'Tocqueville, Democracy in America
Nathaniel Hawthorne, short stories
Christina Rossetti, poems
Gerard Manly Hopkins, poems
J.R.R. Tolkien, Lord of the Rings
C. S. Lewis, The Chronicles of Narnia
Viktor Frankl, Man's Search for Meaning
Catharine Drinker Bowen, Miracle at Philadelphia
Richard Feynman, Surely You're Joking, Mr. Feynman
Willy Ley, Dawn of Zoology