---
The priest, who had seemed so mild, now spoke out, loudly and categorically,
"There is no such thing as '

my

truth' or '

your

truth'," he said.
"There is only

one

truth. You'll live to find that out."
---

Praise for

Leave If You Can

:



"Speaking of treasures, I loved

Leave If You Can

. It is a very good book to form people in an understanding of a vocation. And there are some powerful lines in it in that regard. People may think that one always is holy and attracted to religion, but that is often enough not the case. One can be called and have an aversion. That's why I think the book has a lot to teach. In that respect, it is a true story."




—Sister Magdalene of the Hearts of Jesus and Mary, OCD





"Reading

Leave If You Can

was different from reading many other novels. The experience was more like reading a poem, or perhaps it was like watching a historical documentary....If the author had romanticized the religious vocation of the two young women, I would not have enjoyed the book nearly as much as I did. I sometimes imagine that a vocation that did not include responsibility for every need of ten other people would be easier than the life I have. However, the author made it clear that Angelina's experience of Benedictine life, just like a marriage vocation, required commitment to the continuous service of other people. In Christian life, it seems, following any vocation means to die to self, to live for others."




—Cynthia Wright, homeschooling mother of nine





"

Leave If You Can

is not your ordinary love-and-war story with villains, heroines, family feuds, and romance. It is the remarkable story of Angelina, who was first blinded by fanaticism and shaken by the injustices and atrocities of the War. After suffering and losing so much during her political and spiritual struggles, Angelina discovers that the fight for justice and human rights is found at a higher level with God as the Supreme Commander. I highly recommend this book to readers who enjoy war stories entwined with religion and politics while remaining faithful to history."




—Tannia Ortiz-Lopes,

Time with Tannia Book Reviews




"This amazing and poignant tale of two women in wartime Italy, and of how they were drawn graciously but inexorably, not only to faith, but to costly obedience, will remind readers of the annals of faith all down the centuries. It immediately takes its place in those stirring annals."




—Thomas Howard, author of

On Being Catholic

and

Evangelical is Not Enough




"One sentence on the book's back cover describes the novel as exploring "the challenge of God's mystical call versus the overpowering allure of the world." I'd add that it not only takes on the challenge to heed God's call when the world is pulling us in other directions, but also how someone might feel the draw to religious life. In a culture where self is made more important than others, choosing a vocation as religious rather than marriage or single life goes against the norm....Overall, this was a book that provided an excellent example of someone answering God's call to pursue the vocation He has laid before them. For the primary characters in this story, the vocation was to become nuns in an order. For some of us it is to married life (with or without kids) or life as a single. Whichever vocation we enter, God's call needs to be heard before we can follow the path he has designed for us."



About the Book:
There is something different about Angelina. She is passionate and idealistic by nature, thanks to her Italian mother. But her German father's influence makes her stubborn and headstrong as well. With Europe embroiled in World War II and her father missing in Russia, Angelina journeys alone to seek out her mother's family in Italy. Instead, she finds Giulia, a kindred spirit, two years her senior.
Both Angelina and Giulia are ardent Communists--and atheists. With Fascist Italy reeling under repeated defeats in the summer of 1943, the two girls decide to join the Italian partisans and fight for the socialist world revolution. Led by the dashing Antonio, the partisans are soon in action against the Nazis. Angelina's courage and devotion to the cause earn her Antonio's admiration--and his love. But when Angelina is injured in battle, she finds herself locked in a spiritual struggle every bit as daunting as her physical battle against the Nazis.
Originally written in German in 1959,

Leave If You Can

is a beautiful novella of wartime Italy that explores the challenge of God's mystical call versus the overpowering allure of the world. Set against the backdrop of wartime Italy and the controversial bombing of the abbey at Monte Cassino, the book is a history lesson as well as a compelling read for young and old alike.



About the Author:


Luise Rinser (1911-2002) was born in Bavaria, Germany. In her young life, Ms. Rinser was a teacher, but after her husband's death on the Russian front in World War II, Ms. Rinser was denounced as a traitor and imprisoned by the Nazi government. Only the war's end saved her from a death sentence. Her

Prison Diary

was the first book published in Germany after World War II. She went on to become a prominent literary figure in Germany and wrote many more books, including the novella

Leave If You Can

, which was originally published in German as

Geh fort wenn du kannst

. Though profoundly misled on certain religious and moral issues in her later life, Rinser remained a professed Catholic.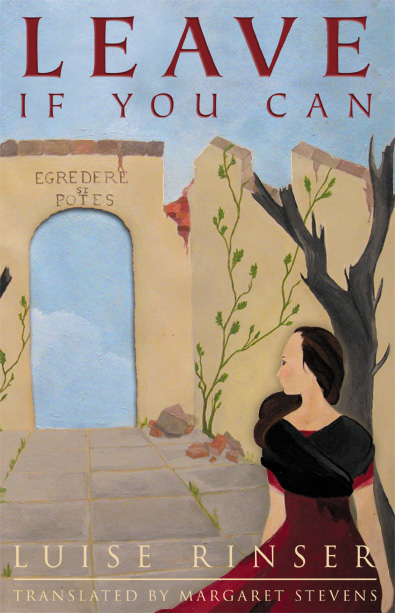 2010 ~ 156 pages ~ paperback
978-1-935228-04-2 ~

$13.95




with 10% discount: $12.56



To order Leave If You Can
with a 10% discount using a credit card, click the button below.