by




Fr. Pierre Cholonec


About the book:

Three hundred and thirty-two years after her death, Kateri Tekakwitha has become recognized as a saint of the Catholic Church. Read about her extraordinary life through the eyes of someone who actually knew her: Fr. Pierre Cholonec, one of the two main biographers of St. Kateri. Father Cholonec's account of Kateri's life, as presented in this book, helped solidify her name and reputation within the Catholic world and began the process that would culminate with her canonization in October of 2012. This new edition of Fr. Cholonec's famous biography, originally written in 1696, brings the courageous and endearing story of the Lily of the Mohawks out of hard-to-find academic texts to everyday readers, featuring antique illustrations exemplifying the saint's life and the environment in which she lived.

Also included in this volume as an addendum to the biography of St. Kateri is Fr. Cholonec's heartwrenching and fascinating account of the Iroquois martyrs, the friends and neighbors of St. Kateri who preferred to die by torture than to give up their hard-won faith.

About the author:

Father Pierre Cholonec (1641-1723) was a French Jesuit missionary born in St-Pol-deLéon in Brittany. At the age of 33, he departed France for the hard life of a missionary among the Indians in Canada. He lived for many years at the mission of St. Francis Xavier du Sault near Montreal where he came to know Saint Kateri Tekakwitha. Father Cholonec wrote a biography of Saint Kateri in 1696, sixteen years after her death. He eventually became superior of the Jesuits in Montreal where he died in 1723.



Saint Kateri is one of the patrons of Arx Publishing. Saint Kateri, pray for us!




Also Available from Arx Publishing:






Kateri Tekakwitha -

Mohawk Maid


by Evelyn M. Brown



Saint Isaac and the Indians
by Milton Lomask



Catherine Tegakouitha: Iroquois Maiden
by Fr. Félix Martin



Annual Narrative of the Mission of the Sault
by Fr. Claude Chauchetiere




The Roman Rite in the Algonquian and Iroquoian Missions
by Claudio R. Salvucci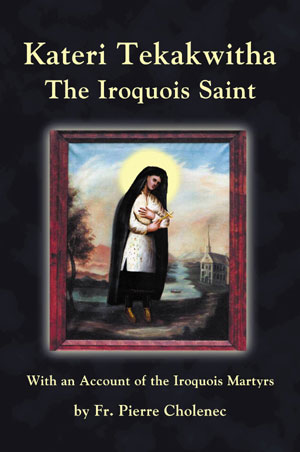 2012 ~ 120 pages
3 illustrations ~ paperback
978-1-935228-09-7 ~

$12.95




with 10% discount: $11.65



To order Kateri Tekakwitha:
The Iroquois Saint in paperback
with a 10% discount using a credit card, click the button below.





---