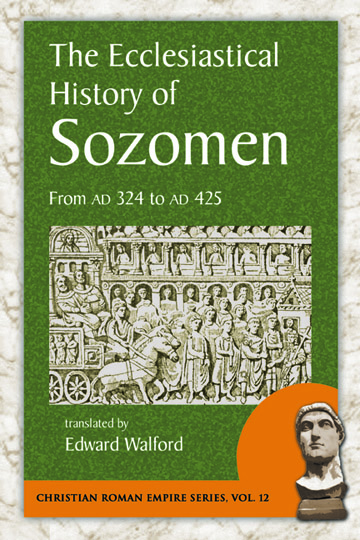 paperback ~ 412 pages
List price: $29.95
The Ecclesiastical History of Sozomen
From AD 324 to AD 425
Edward Walford, Translator

The fourth and fifth centuries AD were an era of intense political and spiritual turmoil in the Roman world, when ancient institutions suddenly crumbled and brilliant new edifices emerged from the rubble. A religious historian sympathetic to orthodoxy, Sozomen's focus is on the various quarrels, councils, schisms and reconciliations which roiled the Church at the time when Christians exited the catacombs and entered directly into the imperial administration. He provides exceptionally detailed descriptions of the heresy of Arius and the resulting religious controversies which followed the Council of Nicaea, including the recurring depositions and reinstatements of Saint Athanasius as bishop of Alexandria. With an obvious personal interest in monasticism, Sozomen provides some of the best contemporary accounts of the lives and deeds of famous monks from across the Roman world.
Chronicling occurrences over the course of a century, Sozomen's History is an invaluable source on the fateful reigns of emperors such as Constantine the Great, Constantius II, Julian the Apostate, Valens, Theodosius the Great, and the empress Pulcheria. He provides anecdotes about Popes like Julius I, Liberius, and Innocent I, and great saints such as Anthony of Egypt, Ambrose of Milan, and John Chrysostom.